Do you love to cook? Are you looking to make your kitchen as trendy as possible so people can see how fabulous everything is when you cook them dinner? Maybe you're just interested in having a beautiful home! Regardless, 2020 has brought with it a variety of new kitchen trends that are sure to spice up your kitchen and give your home a new feel. To create an in-depth and accurate listing of all of the newest trends, Breville has decided to partner up with Pantone to bring you the very best of the best.
Bold and Beautiful Colour Combos
For the past few years, society has seen an increase in minimalism. Beauty in the simplest of things. Hence the common presence of all-white kitchens. But those trends are out of date. In today's modern world, people are spicing up their kitchens with the most beautiful colors. Embracing the wild side of their imaginations and creativity. It's time to blast color towards your appliances, pantries, and culinary instruments.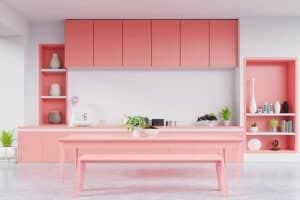 Beautiful Material Combinations
One of the best ways to really spice up your kitchen and give it a really unique look is to use a whole bunch of different textures. By mixing together a bunch of materials, you can replicate even the most exotic of kitchens. The possibilities here are endless. 2020 is all about embracing how unique you and your kitchen are. Get creative! Mix wood and tile, concrete, and granite. Whatever your heart desires!
Closed To Open Interiors
Over the past while homes have been unfolding and transferring over to open floor plans. Kitchens have begun to follow suit. Soon the home is going to be entirely open, and if you want to stay on course, the kitchen is definitely where to start!
Get Decorative
Remember, simplicity is out! Customization and uniqueness are in! It's time to decorate your home and kitchen with things that make you happy! Decorate ledges and shelves with potted plants if that's your thing! Maybe grab your favorite cookbooks and put them on display! Decorate that fridge with photos and don't look back! Remember, where there is empty space there is room for personality and your own style. You need to make people know this is your kitchen and you're not messing around! Make sure you leave enough room to do some actual cooking!