Congratulations! You're embarking on an adventure to transform your home. Kitchen renovations are costly, but their overall impact on the value of your home is undeniable. When distributing and allocating your budget, cabinets are the most likely to run your bill up. Because of the high initial investment associated with cabinetry, you definitely want to get it right the first time. Invest smart and invest once.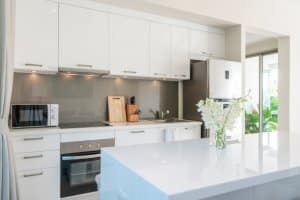 Before you buy, there are some things to think about. You should start by considering high-level elements, like cabinets and floors. After you've made some decisions about these elements, feel free to work your way down to the finer details. The first step in your remodel should always be establishing an overall style and aesthetic for your dream kitchen. This rule applies to any renovation project as well! While high-level work refers to the larger, foundational elements, detailed elements include hardware, accent pieces, and lighting fixtures. Both are equally important, but it's best to tackle these projects one at a time.
Make Sure Your Cabinets Match The Drapes
When you're looking to remodel your kitchen, be sure to consider congruency and the overall flow of your home. To ensure a sense of continuity, think about matching the kitchen to your existing home. Sometimes you may begin your entire home renovations with a kitchen remodel. If this is the case, start by thinking about the overall aesthetic you're after before beginning any rooms.
There are a ton of different styles when it comes to home design. Magazines, celebrity house tours, and Pinterest pages have popularized ultra-modern kitchen designs. As appealing and as fresh as this style is, homeowners should be realistic about what cabinet styles suit their home best. Not every space is best for bright white floating cabinets. Consider the following aspects when choosing your preferred cabinet faces:
Keep your kitchen in sync with the rest of your home. This will benefit you if you ever decide to list your property in the future. Potential buyers may be averse to a home if its kitchen doesn't match a home's overall facade. Creating a consistent and visually appealing aesthetic will not only increase the market value of your home, but it will also increase your enjoyment of the space.
If you're not sure where to begin when it comes to cabinet shopping, take a step back and analyze your home. Do you live in an art deco home? Is it a farmhouse design? A simple Google search of "design styles" will provide you with the resources you need to help understand the style of your home. There are so many styles that have been and continue to be popular. While some of these are considered dated, be honest with yourself when assessing your home.
Some styles to consider are:
Abstract
American Colonial
Art Nouveau
Arts & Crafts
Baroque
Bohemian
Chippendale
French Provincial
Lake House
Neoclassic
Scandinavian
Just when you thought the difficult decisions were behind you, you may find yourself realizing that the style you love is in fact wrong for your home. Maybe your favorite cabinets are the wrong type of wood or maybe it's simply the finish that's off.
In reality, the color of finish that you choose for your cabinets is going to be one of the first things people notice in your new kitchen. The first impression created by an all-white, sleek, aesthetic is going to be very different from the look communicated by deep oak cabinetry with crown moldings.
A Distinction: Wood vs. Finish
We've briefly touched on the importance of cabinet finishings, but let's dive in deeper.
One critical design concept to note is the difference between color or finish and wood type.
Many different types of wood can be used to create cabinets. People often incorrectly refer to deep red colored cabinets as cherry. But, cherry is not actually a color, it's a type of wood. Be careful when using terminology in the design industry. If you order cherry wood cabinets you may end up with products vastly different than what you expected.
Additionally, stain colors are not as straight-forward as you may initially believe. Each stain will turn out differently on different types of wood. Some woods are more porous than others and will absorb more liquid. In this case, the stain colors will appear less vivid. Luckily, cabinet designers are experts and they can help ease your stress. These professionals are well-versed when it comes to various stains and wood combinations. One of the best things about working with experts in their ability to guide you through the process. They know their stuff and can even help you save money on finer woods when certain staining options can achieve the same results.
Types of Finish Treatments
Finishes are the products that give cabinets their polish or lack thereof. These are the three most common types you'll find on the market:
Thermofoil: A white veneer that covers the whole piece of wood.
Paint: This finish is more about the color of paint rather than the texture or color of the wood grain itself.
Distressed or Vintage Paint: These are much like the finishes above, but they provide a more distressed look.
Glazed: Glaze is applied over the base stain to add a layer of luxe and create a glossy finish.
Highlighted: A simple stain with the addition of lowlights to provide the illusion of depth and create a three-dimensional look.
Which Wood?
Like we've mentioned, selecting the right strain of wood is very important. Here are some of the most popular options for cabinetry:
Oak: A red-tinted softwood.
Cherry: A multi-colored hardwood with unique aesthetic features such as whorls and streaks.
Maple: A clean, evenly colored hardwood with hints of gleaming highlights.
Hickory: This is easily the most unique wood when observed in its natural form. Hickory varies in color and is characterized by streaks and dots of color.
Birch: A strong striped hardwood.
Medium Density Fiberboard: Also known as MDF, this is a man-made wood material similar to particleboard. It isn't pretty on its own but can be covered with veneer or thermofoil for a polished look.
Last But Not Least – Door Styles:
The doors you select for your cabinets are what people are going to see the most of. There are a variety of different door styles, and trends come and go.
Some of the most common current styles are flat panels, raised panels, multi-flat panels, and beadboards. When selecting cabinets, you need to consider two key elements. First, look at the actual doors you like then consider overlays. These elements work together to create the look you're after. They're both equally important and worth considering. But what's an overlay?
Overlay refers to the amount of frame that shows beyond the cabinet doors themselves. There are several different types of overlay:
Full Overlay: With this style, there is no frame showing beyond the door itself. The door is the entire focus of the cabinet. This provides a sleek, modern look with little visual distraction.
Partial Overlay: With a partial overlay, some of the cabinet frames are exposed. The number of frame shows can range from ½ an inch to over 1 inch. This cabinet style is more classic and is often seen in older homes. This style can help cabinets appear to have more depth.
The Icing On The Cake: Kitchen Cabinet Treatments
So, you've designed your dream kitchen and found the perfect wood, finish, and style for your cabinetry. There is just one last thing to consider – additional treatments.
Not everyone opts to include cabinet treatments in their kitchen designs. But, as we've suggested, they can be the icing on the cake.
Different types of cabinet doors may be complemented by extra functions or aesthetics. For example, adding some glass cabinet doors is a treatment that can transform the feel of your kitchen. Glass doors create a more open aesthetic, and tone down some wooden accents that can overpower or dominate a space. These types of treatments can pair nicely with additional touches like pot lights. This combination is great for showing off any decor pieces of fine china you may have. It almost creates a museum-inspired or apothecary aesthetic. This is just one great way to showcase your belongings while maintaining a functional, elegant space.
When it comes to additional cabinet treatments, you have a ton of creative freedom. Feel free to experiment with different types of glass, colors, or fixtures. This is where you can incorporate more of your own personal style into your kitchen design!
Enjoy the process and be sure to keep your long-term vision and the overall style of your home in mind.